RUSH eStore has a partnership with Grab to fulfill deliveries. You can check out this article to see how to use the booking system. For all deliveries that will use the partnership, you will be billed the appropriate amount on the confirmed deliveries.
Below is the breakdown of the fare matrix with Grab. You can use this as a guide for setting up your Dynamic Delivery Fee.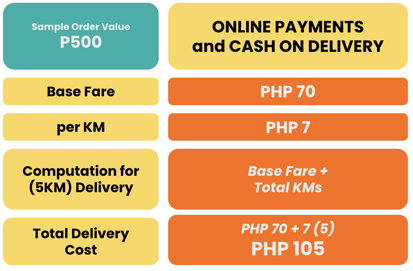 This is a computation of the expected delivery fee for a 5KM coverage fulfillment. Read more on the specifics of Radius KM Coverage and Road Distance here.
Fees Charged to Merchants

Transaction Fee is based on RUSH eStore Subscription package. Please contact your RUSH Account Manager or check out your subscription agreement for more info.